The way I plan to go through the challenges is to go to a forum... and do all the challenges I can there... after I finish... move on the next forum. Today, I'm still over at
Digidesignresort
and I finished a layout for the
WordArt Challenge
.
We were given this WordArt from Feli Designs to use in a layout: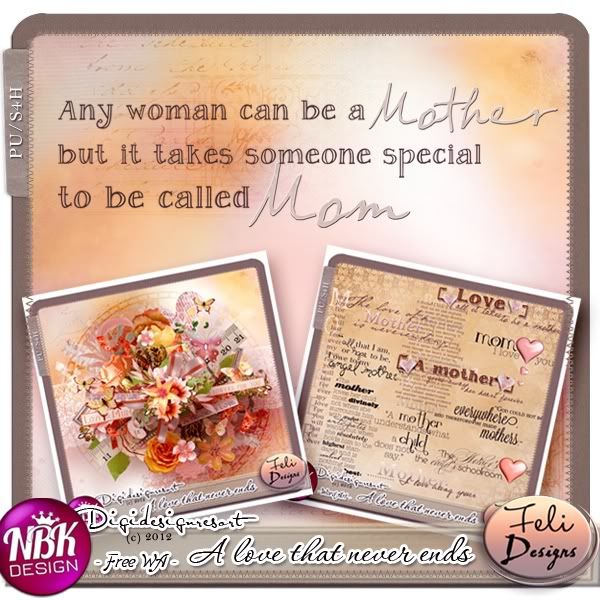 Since Mother's Day is this May, there are a lot of challenges with a "mother" theme. I initially wanted to use a photo of me and my mom... but that means going through old photo albums and scanning and though I have wanted to do this forever, I simply don't have the time right now. So I used my friend's photo instead and here is my layout:
Elements from: Perles d' Amour by Cajoline Scrap, Word Art from: Feli Designs
Remember the baby boy I "borrowed" for my
Baby Love - Boy layouts
? She's his mom :) They have a lot of beautiful photos because they have a photographer friend who takes their photos. She's a new mom and is still in that stage where they take millions of photos every week. These are photos from her pregnancy shoot and TJ's newborn shoot.
Ok, so DDR challenges tally:
Scraplift Challenge - Done: Dress-Up Time
Photo Challenge - Done: Ang Gumamela
Word Art Challenge - Done: To be called 'Mom' (this post)
Theme Challenge
Color Challenge
Template Challenge