I've been seeing daily download stuff on different forums but knowing how I tend to forget things, I never tried this before until this month. Last August 1, I bookmarked the forums I wanted to download daily from. It wasn't that bad actually, because some forums keep their daily download links up for a few days. But it did mean I had to go against my "No Internet During Weekends" rule... which I've been cheating on anyway since I go online on my mobile all the time.
Anyway, here are some stuff I was able to snag for free. Patience does pay off, my friends!
1. Collect a Fairy Tale at Scrapping Fairytales: Fun Park (revisited) by Snuggle Berry Pie.
I actually missed 2 days of this kit, and they are only available for free for 24 hours :( I can get the elements I missed for $1 each but I don't think it's worth paying $1 for just one element (each download for this kit contains only one element or one paper). So I think I will live with this kit minus the 2 elements *sniff*. Still not a bad deal because the elements in this kit are cute! Can't wait to see what I can collect for September!
2. Daily Berry Bytes at Berry Sweet Scraps: August Evening by Baby Cakes Scrap
Love the autumn feel and delicate elements in this kit. And another great thing? Each download link is up for 3 days or so and contains around 3 elements/or papers. I've been able to download all parts of this kit.
3. Daily Download at Gingerscraps: Kit by Kathy Winters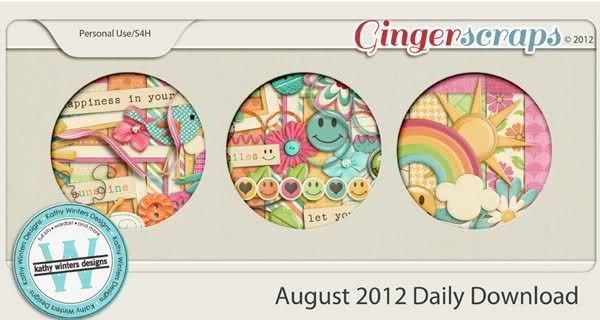 This had me started on the daily download business because they have a challenge over at Gingerscraps where you need to scrap a layout using the previous month's Daily Download kit. I don't have a complete preview of the kit yet, or even the kit name, just the image of the teaser. But based on the elements I have, it looks like a Spring-themed kit.
4. Daily Download for Aug 16 - 30 at Scrappity Doo Dah: Simplicity by Elaine Therese
The daily download at Scrappity Doo Dah for one designer runs every 15 days. I discovered the daily download for Aug 1-15 a little late so I only started collecting from the one that ran from August 16 - 30. The upload links are also up for about 3 days so it's easy to catch up when you miss a day.
Aside from the daily downloads, I was also able so snag a couple of freebies:
5. Fan Kit from Nibbles Skribbles: Sibling Love:
Nibbles Skribbles has been giving away parts of this kit on her Facebook page every week since August and I think I just downloaded the last part! :) You can also post a layout created with the kit on her Facebook page to get the word art pack. This is the layout I made:
Elements from "Sibling Love" kit by Nibbles Skribbles
Andrea is an only daughter (and when I think back on all the effort and difficulty it took to raise her from baby to toddler... I think she is most likely to stay one), no siblings, so picked this photo of her and one of her cousins instead. They're the same age and they would have been playmates if it weren't for the fact that he lives on the other end of the Philippines and they only see each other once a year.
6. Mani and Pedi kit by B2N2 Scraps
Becky, the designer behind B2N2 Scraps celebrated her birthday with a birthday bash last week over at her
blog
. She gave away parts of this gorgeous kit everyday last week. I missed the solid papers, but was able to get all the other parts. I used this kit in the layout I posted the other day:
Elements from Mani/Pedi kit by B2N2 Scraps
You know where else to get great freebie kits? Newsletters. I'm signed up to a lot of digiscrapping newsletters and I actually like getting them, not just because of the freebies, but because I get to see what's new out there (I like tempting myself). My favorite newsletters are the ones from Digital Crea and Digiscrapbooking.ch. They give away full free kits or collaboration kits almost every week I think.