Andrea fell asleep early last night which means... hooray for me! Free time! I should be working on other pages for my grandmother's scrapbook but I got a little distracted by a folder of scanned old photos of my husband's family. I saw his baby pictures and can not help noticing again how much Andrea looks like him. I ended up making a layout using one of his baby pictures instead.
Yep that little boy is my husband at 2 years old. The scanned image is grainy and textured and I have no idea how to fix it so I let it be. All elements in this layout is from
Granny Art
which you can also download for free, if you want to get into digital scrapbooking.
I also have a few fun things to share... I stumbled across four blog trains earlier! Yes, FOUR!. So what you do is click on all the links to go to the sites of designers participating in the blog train and they all have freebies! These blog trains usually just run for a month so you have all of February to visit all the sites to get all the freebies. FUN!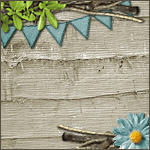 DigiScrapConnect Blog Train for February - Full of Heart
Digiscrap Forum February Blog Train
Since these are high resolution files, the file sizes are quite big so it will take some time to download for slow internet connections.